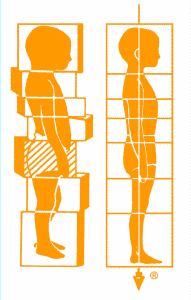 ROLFING®: REESTABLISHING THE NATURAL ALIGNMENT AND STRUCTURAL INTEGRATION OF THE HUMAN BODY FOR VITALITY AND WELL-BEING
WHAT IS ROLFING® STRUCTURAL INTEGRATION?
Rolfing Structural Integration is a form of hands-on manipulation and movement education developed by Dr. Ida P. Rolf over 50 years ago. It works on the web-like network of connective tissues, called fascia, to release, realign and balance the whole body, potentially resolving discomfort, reducing compensations and alleviating pain. Rolfing aims to restore flexibility, revitalise your energy and leave you feeling more comfortable in your body. Rolfing Structural Integration may enhance your posture and freedom of movement. It is not necessarily painful, and may bring dramatic results.
What is Fascia?
Fascia pervades the entire body. It surrounds all of the individual structures such as muscles, organs, and vessels and forms tendons and ligaments.
Fascia arranges and at the same time connects all these structures through a body-wide network.
Healthy fascia constitutes continuous tissue, which can adapt to different types of strain through movement and stretching.
It contains enough "fluid", displays a high level of tensile strength, and enables effortlessly gliding muscle movements as well as the joints' freedom of movement.
Fascia constitutes a network of fibrous, collagenous tissue in our body. It has always been Rolfing's "working material". The creator of Rolfing, Dr. Ida Rolf, already focused on fascia in the middle of the 19th century and recognized its important role in our well-being. She referred to fascia as the "organ of form" and believed that the body is malleable and shapeable through connective tissue treatment. How groundbreaking Ida Rolf's theories were is now being confirmed by current fascia research.
Ida Rolf believed that it is the fascia, not just muscles and bones, that hold us together from the inside and determine our appearance. After years of practical experience, she was also convinced that the body can be formed and changed in a positive manner by treating the fascia and the tension relationships within the connective tissue network. What was revolutionary about her approach was the fact that she incorporated gravity. Tensions within the fascia network are meant to become so balanced through Rolfing that it requires no effort to hold the body upright. This can only be the case if all of the single body segments are aligned along a vertical line.
HOW IS ROLFING DIFFERENT FROM OTHER TECHNIQUES?
In most massage techniques we seek treatment for a particular issue and the practitioner will address the symptoms which we present. These corrective practices over look the way the whole body is integrated in gravity and how a local intervention has an effect on the entire system.
Over the years Rolfing has developed this Integrative approach to include the importance and understanding of how the structural organisation of the body effects its function (how we move), movement patterns and emotional trauma. Within the process of the 10 sessions a Rolfer and client may work to release trauma, suppressed emotions and limiting world views.
SCIENTIFIC RESEARCH
Both The European Rolfing Association (ERA) in Munich and The Rolf Institute in Colorado have research units. Dr Robert Schleip who is Research Director at ERA has been awarded with the Vladimir-Janda-Award for muscolo-skeletal medicine in Leipzig, Germany.